An instant solution for tea-lovers! Finding the best premix tea powder for vending machines in South India.
Tea, a three-lettered word that is more than just a beverage, it is the coming together of people in neighbourhoods, at events and in workspaces. When it comes to this celebrated hot beverage, there are various versions of what the perfect recipe is, from masala to noon chai. Richcafe, South-India's finest vending machine brand has found an instant solution to making the perfect cup of tea! At workplaces where the ice is broken over a cup of warm masala tea and ideas are spun but nobody has the time to administer the making of the same, finding the best premix tea powder for vending machines is important.
Handpicked and Aromatic Tea Leaves
The heart of the brand Richcafe, which makes it a promising brand that has grown rapidly over the last decade is its promise of quality. Each batch of locally grown, handpicked and aromatic tea leaves are hygienically packaged and distributed from their state of the art mixing facility in Ambattur. They are popular for their signature aroma and authentic taste that is derived from a unique combination of tea leaves grown at various locations across the country, Richcafe is one of the few brands in India that manufacturers instant, ready-to-serve premix tea powder. They've established themselves as manufacturers and suppliers of the best premix tea powder for vending machine, their vending machines being a popular sight at IT companies and MNC cafeterias located in South India.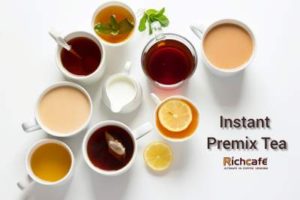 India is home to four outstanding varieties of tea, Assam tea grown along the banks of Bhramaputra river with a signature malty flavour, Nilgiri tea grown along the hills of Munnar and Nilgiris with their celebrated fragrance and flavour, Darjeeling tea with its vast variety and Kangra tea from Himachal Pradesh. Richcafe sources its produce from local farmers from each of these regions to ensure authentic taste and the best quality. What stands out about their premix tea powder is the amalgamation of flavours and fragrance that is a result of combining the four outstanding tea strains, in carefully curated ratios to create the best premix tea powder for vending machines. Hence ensuring the ultimate tea-drinking experience of the tea lovers out there!
Being the second-largest producer of tea in the world, India has come to embrace tea as the national drink! What's more interesting is that 70% of this production is consumed by India itself, reconfirming our love for this flavoursome drink. Now one may ask, who regulates this huge market and assures quality? Its the Tea Board of India and Richcafe finds a place on its list of certified and trusted tea companies making sure that each batch of Richcafe's signature tea premix is of the finest quality. This also signifies the cultural connotations of this golden beverage, from Hyderabad's Irani Chai to Kashmiri Noon Chai, most cultures hold pride in their take on tea, their unique recipe that has been passed down from generations.
In a country where chai, cha or tea holds such importance, brands like Richcafe focus on recreating the perfect cup of chai, a way to add some nostalgia and relaxation to the fast-paced lives of today's corporate generation by making them available in instant premix packaging. Cafeterias filled not only with bustling ideas and conversations but a few minutes of enjoying the perfect cup of tea, indulging enough to make them forget all their worries is what Richcafe aims at actualizing. This vision is what had driven the brand to create the best premix tea powder for vending machines.
The ingredients, the makers of a heavenly cup of tea are basic. Some milk, sugar and the finest tea leaves. These ingredients find their place in Richcafe's instant premix, a stand out from the rest because this one is truly 'ready to serve'. No hassles, no measurements, no stress! Their tea premix powder is the ultimate solution for busy tea-lovers across the country. Simply add it to some boiling water and voila, your tea is ready! This premix includes all ingredients including sugar and milk, making it a one of a kind.
Instant Dip Bags
From black to green, what is tea without some variety? While tea remains constant, some people prefer it green, some black and others oolong. Apart from the best premix tea powder for vending machines, Richcafe is also popular for their teabags. While most instant dip bags in the market are of standard sizing and sport a rectangular shape, Richcafe's triangular dip bags are specifically designed to ensure thorough infusion of the aroma and flavour. The triangular shape helps defuse the flavours quickly and evenly, resulting in maximum flavour derivation!
For tea-lovers, the perfect cup of tea might be the motivation and incentive they need to do their best throughout the day! They are an absolutely integral part of India's workplace banter and a well balanced, ready to serve a hot cup of tea can be the ice-breaker, the mood changer or the motivator that employees need. Sometimes, it's the little things that make the most difference. Explore the Richcafe's wide array of tea premixes and dip bags for your home or workplace and bring about a fresh take to your everyday tea-sipping experience. Richcafe makes it simpler, faster and easier while maintaining authentic flavour, the kind that reminds you of home.
Indulge in a cup of Richcafe's premix tea powder or dip bags and be transported to pristine evenings surrounded with the aroma of tea leaves, clear skies and moments of relaxation amidst today's hectic life. The brand that has become a landmark name in the South-Indian tea industry promises to bring authentic aroma and flavour into your cafeteria or workplace, packaged as the best premix tea powder for vending machines. A truly revolutionary instant solution to creating the ultimate cup of tea in just a few seconds!