All you need to know about finding the best coffee vending machine in Chennai!
To most Chennaites, coffee is more than just a beverage, it is the aroma that surrounds houses at 7 AM, it is the bittersweet reminder of childhood. But as we move from quiet houses on the streets, laced with the aroma of filter kaapi, there is a coffee culture that is brewing in Chennai's urban IT sector. Offices bustling with ideas, chatter, and socialization over a cup of hot coffee at the cafeteria has become a popular sight, a part of the very fabric of workplace socialization. Cafeterias are now spotted as a hub for social chatter and a state of the art cafeteria with comfortable seating and the best coffee vending machine in Chennai, can give your employees a sense of belongingness and motivation.
When it comes to finding the perfect vending machine, the perfect coffee for your employees, Chennai is in definite luck. South India is home to various home-grown brands of this golden-brown beverage that has its aroma deep-rooted in the local culture.  One among the many brands is 'Richcafé', a popular name in the South-Indian coffee arena that has been a trusted pioneer for over a decade. The brand boasts of select coffee beans roasted to perfection to provide coffee-lovers with the joy of devouring an authentic cup of coffee, instant pre-mixes, and the best coffee vending machines in Chennai.
With a variety of products and variations in the market, some brands that are popular and others, simply reliable, shopping for a coffee vending machine is no easy task. Understanding the size of your organization could be the first step towards establishing your requirement. For organizations with less than 15 employees, a two-option coffee vending machine from Richcafé would be the perfect fit. For others, large scale enterprises and MNCs, the four or six option coffee vending machine is ideal.
With six lines of flowing goodness, each dedicated to a beverage of your choice, milk, coffee, tea, or more, Richcafé's six option vending machine is one of the best coffee vending machines in Chennai. While the two, four and six option vending machines are popular choices, there are a few more traditional and authentic coffee making options to choose from.
Bringing home a coffee vending machine is a dream come true for lovers of authentic, freshly brewed coffee and Richcafé makes sure to take care of that too. Their range of filter coffee machines are perfect for not just organizations but small scale use too. Here are some of the varied coffee vending machine options to choose from.
Bean to cup machine
There is something nostalgic about fresh coffee beans being ground into the perfect cup of coffee. Richcafé's bean to cup machine provides you with a fresh cup of coffee, minus all the traditional effort.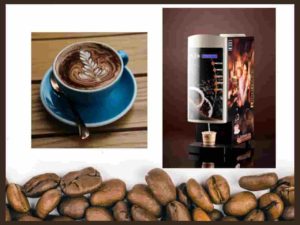 Bean to cup with fresh milk machine
Just a push button and you have your perfect cup of freshly brewed coffee, that is the magic of bean to cup with fresh milk machine. From fine bean grinding to milk texturing, this one takes care of it all!
Authentic Filter Coffee (Manual)
If you have been raised in the households of Madras, you'll hold the perfect cup of filter coffee close to your heart. Apart from some of the best coffee vending machines in Chennai, Richcafé also homes the South Indian filter coffee with fresh milk machine, to add a rustic touch of caffeine to your cafeteria.
Ultimate Filter Coffee (Automatic)
The South Indian filter coffee with fresh milk automatic machine is a delight for coffee lovers. Fully automatic, enabling you to prepare the finest cup of filter coffee in a matter of just a few minutes.
While the above are traditional specialties with a modern touch, perfect for coffee lovers, the two, four, and six option coffee vending machines are the ideal pick for corporate organizations. Once you've selected the vending machine of your choice, Richcafé leaves no stone unturned in order to ensure that their customers enjoy the perfect cup of coffee, every day. Apart from the best coffee vending machine in Chennai, you can also find an array of instant coffee mixes and roasted beans of the finest quality under their brand.
Some of their popular items include premixed instant coffee powder, locally sourced tea leaves- both black and green, milk powder, and more. The brand also ensures a monthly supply of blended and premixed superior quality coffee powder to all their customers, enabling the aromatic bliss of coffee to surround their cafeteria. Located at the Ambattur Industrial estate in Tamil Nadu, Richcafé captures the true essence of coffee and its ties to the South-Indian culture. Get your hands on the best coffee vending machine in Chennai for what is better than some locally sourced, ground, and served a cup of coffee to take your stress away?
With handpicked coffee beans of the finest quality, a state of the art manufacturing facility, an outstanding blending unit, a roasting unit, and over 1000 customers located across South-India, Rich Café is your one-stop destination for all coffee needs. The brand also focuses on customer satisfaction, hence ensuring superior quality beans and only the best coffee vending machines reach every customer. Their goodwill and over a decade of experience is a testament to their services, with over six MNCs that are happy and thoroughly satisfied customers of the brand.
So if you are looking to create a buzz-hub, a come-together place for your employees, be it a start-up, a well established MNC, or an IT firm, one of the most important things would include not just creating that space but uplifting it with the best coffee vending machine in Chennai. Let the aroma of bittersweet coffee drive your employees to motivation and your home to a nostalgic welcome for guests with Richcafé's coffee vending machines and other coffee solutions.