One press beverage maker!!! Best Coffee Vending Machine for offices suitable for all refreshment zones.
In the busy and stressful working environments, the necessity of stress buster like coffee is a must. It is not only necessary to have refreshing drinks, but it has to be of good quality, without consuming the time and cost. Drinks like tea, coffee can increase productivity by reducing stress and improving an individual's mood. A Coffee Vending Machine for offices is a machine that can make hot coffee and other beverages. These automatic tea coffee vending machines are impeccable, labor-saving, and efficient for usage in places from small to large organizations like university canteens, lunch counters, restaurants, shopping malls, movie houses, cafeterias, IT and core companies, and a lot of other places.
Tea and coffee vending machine for office
To make sure an exclusive break zone within the workplace, coffee vending machines are helpful. The usage of this machine is a less arduous task without affecting regular socialization and relaxation activities, which are a part of cafeteria culture. The coffee vending machines for offices can fit within a small installation space and ensure drinks with delicious taste and consistency from the first cup to the last cup. The operations are user friendly with an incredible speed of service and require less manual intervention. It also provides different customization options with touch-based menu selection. The coffee vending machine for offices even has in-built food safety and hygienic attributes. The finest and the best quality heating components of the machine, along with its unique design, can make the cafeteria look complete and desirable. The upkeep of the machine is economically efficient. A wide variety of cafe-style beverages can be prepared effortlessly. These machines obviate the wastages of resources. They are easily portable, reliable, and affordable and are self-service models.
There are 3 models of coffee vending machines for offices based on customization options. This includes two-option models, four-option models, and six-option models.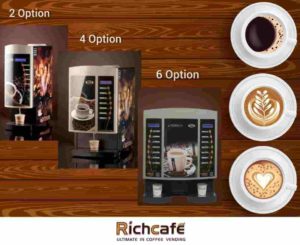 Even though there are various kinds of coffee vending machines available in the market, there are certain important aspects that should be considered before selecting a coffee vending machine for offices. They are listed below.
• Size of vending machines
• Drink storage capacity
• Dispensing rate
• Dispensing varieties
• Power consumption
• Cleaning and Reloading
Steps for the usage of the coffee vending machine are as follows,
• To make a drink, we have to start the machine and wait for 10 minutes at 32 degree Celsius as initial startup time.
• The cup should be placed below the nozzle of the dispenser and the button of the preferred drink should be pressed.
• The light blinks to confirm the choice.
• The cup should be picked up only after drinks stops from the nozzle.
6 – Option Coffee Vending Machine
The six-option vending machines are undoubtedly efficient coffee vending machines for offices in the market. The tea and coffee vending machine for the usage of a sizable amount of individuals is suitably this model. The advantage is that users need not worry about milk or sweetener. The premixes are the sole ingredient added within the machine, to get refreshing and indulgent drinks. These premixes are an instant way to make a cup of beverages to drink. The excellent feature of these machines is that it has two dispensing units and has customization enabled up to six options. Any drink options can be replaced with other preferred varieties by simply changing the premixes in the machine. After pressing the option, the instant premixes for the selected drink in the machine get mixed with water according to taste and fill the cup. It can fill up to twelve cups within a minute. With such a simple operation, the machine also provides a variety of drinks that can burst with freshness.
4 – Option Coffee Vending Machine
The coffee vending machines for small businesses are the ones that are neither large nor small in size. Undeniably the four-option coffee vending machines are premium ones among our models. They are suitable for small as well as medium business organizations like export companies, etc. This coffee vending machine for offices can provide four varieties of drinks like tea, coffee, chocolate milk, and badam milk as the utmost option. On pressing the button, it lights up to verify the drink chosen. The premix for the specified drinks has got to be added through the top of the machine. It can dispense up to seven cups of delicious beverages within a minute.
Coffee Vending Machine for Small Business and Small Offices
2- Option Coffee Vending Machine
The coffee vending machines for small offices do not require large capacity vending machines. For organizations like startups, where the overall employee are 10-12 these two-option tea and coffee vending machines are appropriate. These machines are a simple and compact model. These machines can include two drinks as its utmost option, which may be tea or coffee or health drinks with a dispense rate of 6 cups/minute. If the organization has twelve members, using this machine we can provide coffee to the members within two-three minutes. This machine is also an energy-efficient and space-saving model. These models can also be an option for places, where the number of visitors may vary with time, multi-story commercial buildings and in places to avoid congestion by increasing the number of machines.
If you are looking for high-performance coffee vending machines for small offices, then these can be the perfect choices.The usage of the coffee vending machines for offices in the cafeteria makes easy access to beverages that increase work efficiency, enhances morale, and creates room for open chat and abstract generation. These machines are provided with the capability to make different varieties of drinks, by using instant premixes. These machines accurately blend premixes with water to provide pleasant and energizing beverages to the customer. The drinks from the vending machines are hot, so it is necessary to be careful before collecting the drink. The periodical cleaning of machines can guarantee the longevity of the machine and supply hygienic drinks. The auto cut-off technology in the coffee vending machine for offices avoids the wastage of beverages and also highly safe for usage. It can also be said as a one-press beverage making machine, which serves the use effectively. They are not just limited to one drink, but also have a variety of drinks and offers ease to the employees to share a fruitful break time.